1. Prevents contamination of the aquifer by trapping all kinds of hydrocarbons (oil, grease, gasoline, etc.)

2. Traps debris, silt, heavy metals and solids from going into the drainage system, extending the system's life.

3. Spills containment capacity minimizing expensive cleanups.

4. Easy installation in new or old inlets.

5. Inexpensive, simple maintenance and monitoring.

6. Available for different inlet types or structure sizes.

About Us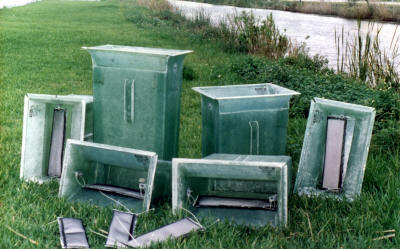 Geotechnical Marine Corp.
has been at the forefront of the storm drain pollution issue since 1989 and patented the first catch basin insert filter system in 1994 (Hydro-Cartridges®). Since then we have been diligently working with Federal, State, and Local governments, as well as private individuals, and their non point source pollution concerns. Let our wealth of knowledge and practical experience provide you with cost effective solutions to your storm drain pollution issues and help you meet or exceed all governmental requirements. Together we can find solutions, to storm water pollution, through the use of Hydro-Cartridges®. The original storm drain insert, filtration system.

Geotechnical Marine Corp. is always looking for new distributors. Contact us for available distributor opportunities.